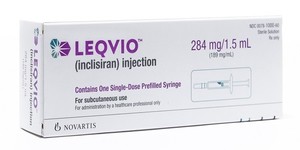 UK doctors raise safety concerns over lipid-lowering agent inclisiran
Novartis encountered a hurdle with the rollout of inclisiran (brand name: Leqvio), a cholesterol-lowering drug, in Europe.
UK medical groups have raised concerns over Novartis' deal with the UK government to distribute the drug at a reduced price.
The British Medical Association (BMA) and the Royal College of General Practitioners (RCGP) have asked the UK government to reconsider the marketing of inclisiran in primary care.
In September, Novartis and the National Health Service agreed to make inclisiran more accessible at a radically reduced price for the first time in the world.
As part of the deal, Novartis had planned to supply inclisiran to around 300,000 people in primary care across the UK at a reduced price to prevent secondary cardiovascular disease.
However, BMA and RCGP pointed out that inclisiran is a "dark triangle drug", or a drug with a new mechanism or form and that there are still questions to be resolved regarding the release of the drug.
The BMA and RCGP said inclisiran lacks long-term cardiovascular outcome data and relevant studies are not available until 2026.
"Long-term safety data and unknown potential long-term side effects and interactions of the drug are lacking," they said in a statement.
They also questioned whether primary care has the capacity to use additional resources to provide this new drug at a time of unprecedented demand and shortage of healthcare workers amid Covid-19.
While finding the answers to these questions, BMA and RCGP said they would encourage physicians to continue to treat patients with hypercholesterolemia following all-options-focused lipid guidelines, including lifestyle changes, statins, high-intensity statins and ezetimibe, and injections if needed. .
If primary care clinicians initiate inclisiran, they should be aware that they will assume full prescribing responsibility as the decision maker, they added.
If doctors decide to prescribe inclisiran, they should share their knowledge with the patient about the lack of long-term data and the unknown long-term safety profile of the new drug and obtain informed consent, BMA and RCGP.
Physicians should also encourage patients to report all side effects, however minor, and should complete an MHRA (Medicines and Healthcare products Regulatory Agency) report on side effects, any potential drug interactions or their own concerns as soon as possible.
"This approach will quickly identify any as yet unknown issues and help inform how the drug may be used in the future, alongside trial data which is expected to be published in 2026," BMA and RCGP.
Inclisiran is the first small interfering RNA (siRNA) agent to lower LDL cholesterol (LDL-C) by blocking proprotein convertase subtilisin/kexin type 9 (PCSK9) in the liver.
In phase 3 ORION trials (ORION-9, 10, 11), inclisiran showed a 50% reduction in LDL-C.
The effect was non-inferior to Amgen Repatha's anti-PCSK9 monoclonal antibody (evolocumab) and Sanofi's Praluent (alirocumab).
While existing anti-PCSK9 monoclonal antibodies require 26 injections per year, inclisiran can only be given twice a year to cause the same effect.
Novartis obtained marketing authorization for inclisiran in Europe in late 2020 and hopes to obtain FDA approval in January 2022.
In Korea, Novartis plans to complete the authorized clinical trial in June 2022 and prepare for global commercialization of the drug.