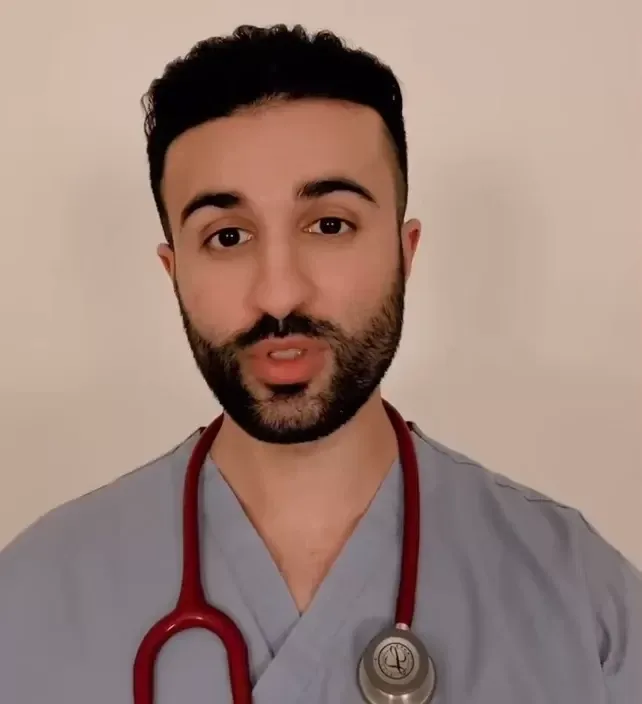 UK doctors fight health myths and misinformation on TikTok
Dr Idrees Mughal is tagged in around 200 videos a day by users asking him about dubious claims.
Dr. Idrees Mughal / TikTok
By: Kimberly Rodrigues
Although social media platforms and applications provide an easy and effective way to communicate, share ideas and stay in touch with family, friends and professionals, they can also be a means of disseminating information. inaccurate.
Part of that is health-related misinformation spread by unqualified influencers, the Times reports.
Experts say that even though people are better informed, they often tend to rely on incorrect or misleading information to make future health decisions.
The reason people are easily swayed by false statements is that inaccurate statements are more easily encoded in memory compared to critical evaluation and analysis of what has been heard.
Later, misinformation is recalled first because less work is required to recall newly presented material, says psychology scientist David Rapp (Northwestern University) in an earlier report published in Psychological Science.
He reportedly said: "If it's available, people tend to think they can trust it. But just because you remember what someone said doesn't mean it's true.
Fortunately, there are a growing number of healthcare professionals who would take it upon themselves to tackle this misinformation, including UK doctors who are now making a name for themselves on the social app TikTok by debunking dangerous health myths.
Dr Idrees Mughal, 27, a West Midlands hospital doctor with a medical degree and masters in nutritional research, has a million followers on TikTok after challenging fake science, according to The Times report on the popular social app.
He is reported to be tagged in as many as 200 videos a day by users asking him about dubious claims.
According to Dr. Mughal, one of the most popular narratives pushed by many "wellness-focused" creators is that carbs are inherently fattening.
"It's probably up there with the most persuasive and makes people terrified of consuming a donut," he said.
"It derives from the carbohydrate insulin model of obesity, [which has] been misinterpreted. Total calories will always be the biggest contributor to weight gain," he claims.
Each TikTok video that is 60 seconds long takes Dr. Mughal at least four hours to create. Indeed, he would have scoured medical journals to ensure the utmost accuracy.
"I have a literature review process," he said. "I analyze a wide range of studies and formulate what I think aligns with the scientific consensus.
"The reason there have been headlines about sweeteners causing cancer is because when you feed a rat 500 times the dose of sweetener repeatedly…yes, you could be in trouble," he said. -he declares.
Explaining why people rely on misinformation and also believe it, Dr. Rapp says that since we are bombarded with tons of information daily, it is a nightmare to critically evaluate all of this information.
He reportedly said: "It's not that people are lazy, although that can certainly contribute to the problem. It's computing's task to assess all that is arduous and difficult, as we try to preserve resources for when we really need them.
Dr Karan Raj, an NHS surgeon and clinical lecturer with nearly five million TikTok followers, is said to have "lost count" of the claims he has discredited, the Times reported.
"Recent highlights include the debunking that lemon juice is good for acid reflux — it's not," he said. "When you offer people simple, jargon-free advice and explanations in a non-combative way, their preconceived beliefs about mistakes are often reversed."
On the other hand, Dr. Mughal reportedly told The New York Times that misinformation is so pervasive that he is tagged in 100-200 videos a day from users asking him to debunk claims.
But even though the doctor is very thorough and meticulous about the information he shares online, abuse against him seems to be commonplace, reports the Times.
Unqualified influencers post misinformation and far outnumber experts debunking that information. Moreover, they are also frequently harassed by other users for their efforts.
"For every great creator who is truly backed by evidence, you have 50 or 60 great creators spreading misinformation," says Dr. Mughal.
He adds, "There are a lot of other doctors out there who want to educate the public, but they're afraid of the backlash."
Dr Mughal also reportedly received "hundreds and hundreds" of comments saying he was "paid off by big pharma" and is a "terrible doctor". But despite these discouraging comments, the doctor seems happy that his content is having a positive impact on people.
He reportedly said: "I get up to 70 messages a day from people saying I helped them manage their food anxiety and now they know where to find accurate information.
A TikTok spokesperson said: "Our community guidelines make it clear that we do not allow medical misinformation that could cause harm, and we work closely with our fact-checking partners to assess content that violates these. policies.
"We continue to invest in digital literacy education aimed at helping people evaluate and understand the content they interact with online."