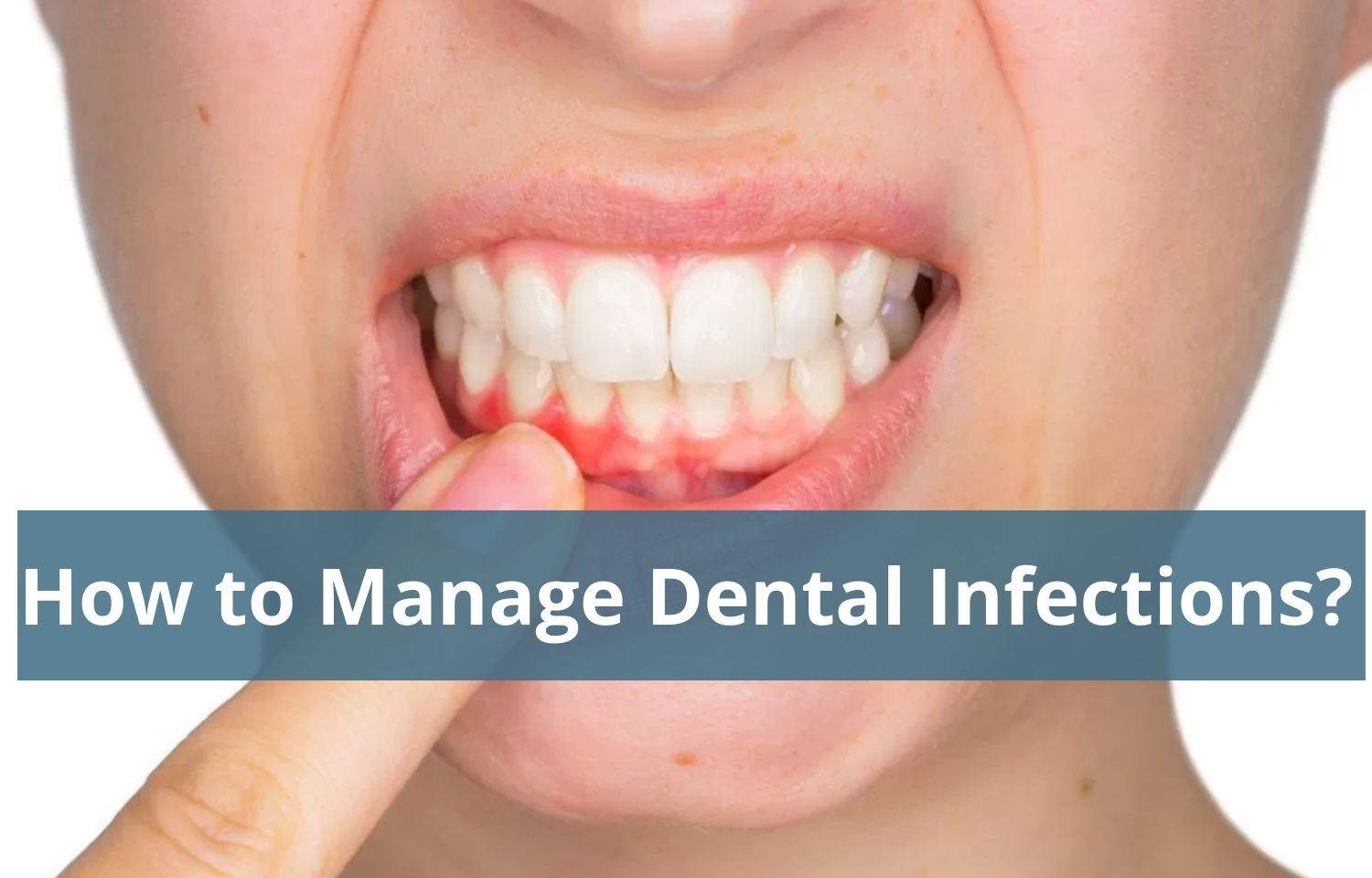 Diagnose and manage dental infections
Dental infections are a common cause of mouth pain, swelling, and discomfort. Tooth decay is present in 90% of adults and 42% of children aged 6 to 19 (1), placing dentists in a critical position to overcome them while providing optimized dental treatment.
Dental caries, pulpal necrosis, dental trauma and periodontal disease ultimately lead to serious dental infections, affecting both the soft and hard tissues of the oral cavity. (2) When left untreated, these oral infections can spread systemically and lead to complications such as brain abscess, airway obstruction, carotid infection, sinusitis, sepsis, meningitis, cavernous sinus thrombosis, orbital abscess and loss of vision. (3)
The polymicrobial nature of a healthy oral cavity, coupled with the invasive nature of dental treatments and the discovery of new drug resistant strains of bacteria have made the right antibiotic the need of the moment. Antibiotics have long played an irreplaceable role in the successful management of dental infection.
Antibiotics, used in addition to conventional dental therapies, are very commonly recommended for the prophylaxis of local and focal infections, both of odontogenic and non-odontogenic origin. (4) Severe cases of dental infection requiring incision and drainage (I&D), debridement and endodontic management are usually followed by systemic antibiotic therapy (2). It is recommended that high-risk groups, including immunocompromised patients, medically compromised patients (diabetics) and people with prostheses, undergo dental treatment with antibiotic prophylaxis. (4)
Types of common dental infections
Dental infections can be bacterial, viral or fungal in origin. Although oral infections can exhibit a diverse microbial flora, it has been documented that Gram-positive cocci are responsible for about 65% of oral infections and Gram-negative bacilli make up about 25% of diseased oral samples. (5) This highlights the fact that the majority of dental infections are of bacterial origin, which places dentists in a favorable position to initiate empiric antibiotic therapy to deal with such situations.
Manage bacterial infections
Role of Amoxicillin – Amoxicillin is a beta-lactam bactericidal antibiotic, originating from penicillin. It has a broad spectrum of action against gram-positive and gram-negative bacteria and works well against most oral aerobes and anaerobes (6). It has been documented as the first-line drug treatment for dental infections and the most frequently prescribed antibiotics in the dental fraternity (2). The therapeutic dosage of amoxicillin for mild / moderate infections is 500 mg every 12 hours or 250 mg every 8 hours and for severe infections 875 mg every 12 hours or 500 mg every 8 hours (14) .
Studies supporting the use of amoxicillin
Research has shown that amoxicillin has always been the first choice for administration during endodontic root canal treatments (7).

Studies show that 2 g of amoxicillin administered orally 1 hour preoperatively significantly reduces dental implant failures (8). Single dose oral amoxicillin (SDOAP) is particularly beneficial in dental implant surgical procedures. (9)

Amoxicillin has been shown to be effective against pathogens such as Aggregatibacter actinomycetemcomitans and Porphyromonas Gingivalis, establishing its role in the treatment of gum and periodontal infections (10).

With studies repeatedly pointing out that bacteremia and subsequent infective endocarditis are a common complication after tooth extraction, the practice of advocating a standard regimen of 2g oral amoxicillin for adults before the start of the dental procedure has been widely accepted and followed by dentists. Research has further established that 2 g of amoxicillin provides several hours of antibiotic coverage (4). In the case of elderly patients, the standard prophylactic regimen is 3 g of amoxicillin 1 hour before the dental procedure, then 1.5 g 6 hours after the initial dose (15). Additionally, for some high-risk cardiac patients requiring prophylaxis prior to dental procedures, including those with a history of AEs, presence of prosthetic valves, systemic shunt, or surgically constructed pulmonary shunt, BSAC guidelines recommend that, under standard conditions, these patients should receive 3 g of amoxicillin before any dental procedure involving tooth-gingival manipulation (15,16).

Amoxicillin 2000 mg for five days at an appropriate dose and interval can cover treatment needs after third molar surgery (4)

Combination therapy – Amoxicillin with clavulanic acid (co-amoxiclav) is a broad spectrum antibiotic that has been shown to be effective in cases of amoxicillin resistance. (11)
A combination of penicillin and clavulanic acid may be preferred for infections caused by staphylococcus, streptococci, and pneumococci (11). A high dose of co-amoxiclav (875/125 mg every 8 hours or 2000/125 mg every 12 hours) is considered a good choice in cases of severe odontogenic infections, such as abscesses and pulpitis. (2)
Guidelines –
Experts suggest that dentists prescribe oral amoxicillin (500 mg, 3 times a day, 3 to 7 days) for immunocompetent adults with pulp necrosis and acute localized apical abscess, with or without systemic involvement. (12)
Dosing recommendations – Typical adult doses of amoxicillin for mild infection of the tooth are 500 milligrams (mg) every 12 hours or 250 mg every 8 hours, for severe infections 875 mg every 12 hours or 500 mg every 8 hours (14). Typical doses of amoxicillin with clavulanic acid are approximately 500 to 2,000 mg every 8 hours or 2,000 mg every 12 hours, depending on the minimum effective dose. (13)
In pediatric patients> 3 months of age, for mild infections, 25 mg / kg / day of amoxicillin in divided doses every 12 hours or 20 mg / kg / day divided every 8 hours is the recommended dose. For severe infections 45 mg / kg / day in divided doses every 12 hours or 40 mg / kg / day in divided doses every 8 hours. (14) There have been no studies demonstrating a clear risk. Based on the available data, amoxicillin is generally considered compatible for use during pregnancy. (6)
Amoxicillin is a Category B drug for pregnancy according to the FDA classification system, which means that amoxicillin is also acceptable in nursing mothers. (6)
Highlighters-
Rational use of antibiotics along with the necessary surgery is the appropriate way to manage a dental infection. Antibiotics are indicated in dental practice to treat immunocompromised patients, obvious signs of systemic infection, and if signs and symptoms of infection progress rapidly (4).

Amoxicillin, due to its broad spectrum of action, its high safety and tolerance profiles and its highly effective combined formula with clavulanic acid, has consolidated a strong position in the control of oral infections.

Dentists should be well aware of the benefits of this proven drug and maintain a logical approach in managing bacterial infections with combined drug therapy as needed.
Conclusion – Oral and facial infections continue to be a burden on global health. The right antibiotic therapy, at the right time and in the right dose, can go a long way in relieving dental pain while reducing the risk of systemic spread. Amoxicillin, backed by extensive research and unmatched efficacy, has been and will continue to be a major change in the management of dental infections successfully.
The references
Erazo D, Sharpening stone DR. Dental infections. [Updated 2021 Oct 1]. In: StatPearls [Internet]. Treasure Island (FL): StatPearls Publishing; 2021 Jan.

Ahmadi, Hanie & Ebrahimi, Alireza & Ahmadi, Fatemeh. (2021). Antibiotic therapy in dentistry. International Journal of Dentistry. 2021. 1-10. 10.1155 / 2021/6667624.

Li, X., Kolltveit, KM, Tronstad, L., & Olsen, I. (2000). Systemic diseases caused by oral infection. Journals of Clinical Microbiology, 13 (4), 547-558. https://doi.org/10.1128/CMR.13.4.547

Ramu, C., & Padmanabhan, TV (2012). Indications for antibiotic prophylaxis in dental practice – review. Asia-Pacific Journal of Tropical Biomedicine, 2 (9), 749-754. https://doi.org/10.1016/S2221-1691(12)60222-6

Singh, M., Kambalimath, DH, & Gupta, KC (2014). Management of odontogenic spatial infection with microbiological study. Journal of Maxillofacial and Oral Surgery, 13 (2), 133-139. https://doi.org/10.1007/s12663-012-0463-6

Akhavan BJ, Khanna NR, Vijhani P. Amoxicillin. [Updated 2021 Aug 17]. In: StatPearls [Internet]. Treasure Island (FL): StatPearls Publishing; 2021 Jan-.

Segura-Egea, JJ; Gould, K .; en, B. Hakan; Jonasson, P .; Cotti, E .; Mazzoni, A .; Sunay, H .; Tjäderhane, L .; Dummer, PMH (2017). Antibiotics in endodontics: a review. International Journal of Endodontics, (), -. doi: 10.1111 / iej.12741

Surapaneni, H., Yalamanchili, PS, Basha, MH, Potluri, S., Elisetti, N., & Kiran Kumar, MV (2016). Antibiotics in dental implants: a review of the literature. Journal of Pharmacy and Bioallied Sciences, 8 (Suppl 1), S28-S31. https://doi.org/10.4103/0975-7406.191961

Rodríguez Sánchez F, Rodríguez Andrés C, Arteagoitia I. What antibiotic regimen prevents implant failure or infection after dental implant surgery? A systematic review and a meta-analysis. J Craniomaxillofac Surg. 2018 Apr; 46 (4): 722-736. doi: 10.1016 / j.jcms.2018.02.004. Published online February 26, 2018. PMID: 29550218.

Kapoor, A., Malhotra, R., Grover, V. and Grover, D. (2012). Systemic antibiotic therapy in periodontics. Journal of Dental Research, 9 (5), 505-515. https://doi.org/10.4103/1735-3327.104866

Evans J, Hannoodee M, Wittler M. Amoxicillin clavulanate. [Updated 2021 Mar 3]. In: StatPearls [Internet]. Treasure Island (FL): StatPearls Publishing; 2021 Jan-. Available at: https://www.ncbi.nlm.nih.gov/books/NBK538164

Lockhart PB, Tampi MP, Abt E, et al. Evidence-based clinical practice guidelines for the use of antibiotics for the emergency management of dental pain and intraoral edema associated with the pulp and periapical: a report from the American Dental Association. Journal of the American Dental Association (1939). November 2019; 150 (11): 906-921.e12. DOI: 10.1016 / j.adaj.2019.08.020. PMID: 31668170; PMCID: PMC8270006.

https://www.medicines.org.uk/emc/product/7211#gref

Simar Preet Kaur, Rekha Rao, Sanju Nanda Amoxicillin: A broad spectrum antibiotic. International Journal of Pharmacy and Pharmaceutical Sciences. (2011).

Gould FK, Elliott TS, Foweraker J et al. Endocarditis Prevention Guidelines: Report of the British Society for Antimicrobial Chemotherapy J Antimicrob Chemother 2006 Working Group 57: 1035-1042.

16. Arthur H. Friedlander & Charles E. Marshall. Pathogenesis and prevention of infective endocarditis of native valves in elderly dental patients. Aging Medicines (1994) 2012 Apr; 4 (4): 325-30. DOI: 10.2165 / 00002512-1994044040-00005.